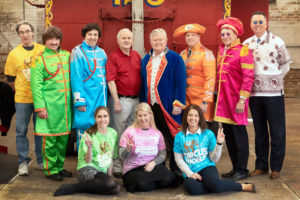 Continuing a tradition that began with a loan to the Ringling brothers in 1876, Baraboo State Bank is promoting the rich tradition of the American circus by serving as Presenting Sponsor of the 2019 Big Top Parade and Circus Celebration.
The event brings more than 30,000 visitors in Baraboo, sending dozens of parade entries – from marching bands to historic circus wagons to Bucky Badger to clowns – to the downtown streets. Afterward, a "BooStock" music festival and other events will entertain the crowds.
This marks the fourth consecutive year Baraboo State Bank has stepped up to serve as Presenting Sponsor. Its gift will cover about one-quarter of parade expenses. The bank's leaders will work with two partners – Circus World and the Baraboo Area Chamber of Commerce – to make this year's Big Top Parade and Circus Celebration the greatest yet.
"We're overjoyed that Baraboo State Bank is leading the way as Presenting Sponsor," said Nanci Caflisch, parade co-chair and Past President of the Baraboo Area Chamber of Commerce. "Its tremendous support ensures we can bring together an incredibly imaginative and inspired event that folks truly love, and brings happiness to so many."
The bank has long partnered with the circus, giving the Ringlings their first loan in 1876. Just eight years later the bank wired money so the brothers could make payroll when heavy rains washed out the first leg of their performance season. Charles Ringling reciprocated during a run on the bank in 1907, confidently walking through lines of people waiting to withdraw their money, and depositing several bags of cash. His display of confidence ended the run on the bank.
"Baraboo's 147 years of circus heritage is only possible because of 162 dedicated years of Baraboo State Bank's devotion to Baraboo and its circus heritage," Circus World Museum Director Scott O'Donnell said. "There's probably no other fiscal or financial institution in the country, and maybe the entire world, that has ever used an elephant as collateral."
Baraboo State Bank Chairman Merlin Zitzner said the institution's leaders are delighted to serve as the parade's Presenting Sponsor. This generous act continues the bank's legacy of promoting the circus, and preserving its rich traditions for future generations. "It's a commitment to our community, and especially the children," Zitzner said. "They are the future, and it gives them a chance to enjoy animals, wagons, cotton candy and all of the good things that come with Baraboo's Big Top Parade."