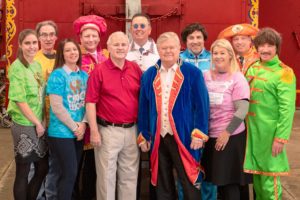 Who better to lead a 1960s-themed parade than a DJ who specializes in the oldies?
The Baraboo Area Chamber of Commerce selected local radio personality Gene Allen Scott to serve as Grand Marshal for the 2019 Big Top Parade. He began his career as an on-air radio personality and disc jockey in 1968, so he was a natural choice for Grand Marshal of a 1960s-themed parade.
"The Baraboo Big Top Parade committee loves to shine the spotlight on people who have contributed to our community, and Mr. Scott has been bringing music and entertainment to the people of south-central Wisconsin for more than 50 years," said Dave SaLoutos, performance director at Circus World.
The Baraboo historic site, located on the riverbanks where the Ringling brothers started their traveling circus, is celebrating its 60th anniversary. That's why its live big top show, like the Big Top Parade, is adopting a "Summer of Luv" theme this year.
That era is one of Scott's favorites. He began his radio career in 1968 at a radio station in Wisconsin Dells, and was a Madison-area radio engineer and on-air talent for decades. Today, he spins an oldies show every Saturday morning on 99.7 MAX FM in Baraboo.
Station owner Kory Hartman noted Scott's ties to the station date back to the 1970s. "We're proud that Gene continues today with his very successful weekly oldies show, playing music of the '60s and '70s every Saturday morning from 7-10 a.m.," Hartman said.
Although officially retired from a remarkable career in broadcasting, Scott said returning to the airwaves with MAX FM revitalized him. "I especially enjoy the opportunity to perform live," Scott said. "I lived and worked the music scene in the '60s and '70s and have a real feeling for the music of this era."
The music many baby boomers grew up with will serve as the soundtrack for this year's Big Top Parade and Circus Celebration, as well as its new mini-music festival, "Boo-Stock." This new component of the Circus Celebration will feature three hours of peace, love and tunes hosted by Scott and featuring live music from the sensational '60s.