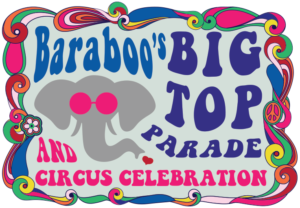 By Darren Hornby, Executive Director
Baraboo Area Chamber of Commerce
This annual event can be a real circus, and that's a good thing!
The committee in charge of organizing the seventh annual Big Top Parade and Circus Celebration couldn't be happier to present a fun-filled weekend of family entertainment. The group has been working on this year's parade since … well, since the moment last year's festivities ended.
It's a pleasure to delight spectators and celebrate a classic art form each July by presenting the Big Top Parade and Circus Celebration. There's no better place to do so than Baraboo, the small town from which the sons of a harness maker launched what would become an iconic international brand, the Ringling Bros. Circus.
The 1960s-themed fun starts at 7 p.m. Thursday, July 18, when downtown Baraboo's Concerts on the Square series gets into the circus act by welcoming Professor Stich's Original Baraboo Circus Band to the courthouse lawn.
Downtown institutions will continue to carry out the circus theme Friday night at 7 p.m., when the Al. Ringling Theatre – a palatial playhouse built by the eldest Ringling brother and donated to Baraboo – presents "The Greatest Showman." Another screening will follow at 7 p.m. Saturday.
Saturday morning will bring Circus Palooza, with vendors opening at 9 a.m. Throughout the day you'll find kids' activities, grilled cheese sandwiches, drinks and fun. The Wild Rumpus Circus will take place at 9:30 a.m., followed by music from the University of Wisconsin Band – plus an appearance by Bucky Badger – at 10:30.
All this will set the stage for the main event, the Big Top Parade, which steps off at 11 a.m. Beloved local DJ Gene Allen Scott will lead the parade as grand marshal. Circus wagons, marching bands, floats and dignitaries will circle the courthouse square under the watchful eye of our celebrity judges, Assemblyman Dave Considine, former NBC 15 anchor Amy Carlson and Boys & Girls Club Executive Director (and sometime circus clown) Karen DeSanto.
Right after the parade, "Boo-Stock" will keep the party going on the courthouse lawn. Gary & the Gators will lead a 1960s-themed dance party with help from special guest performers. Meanwhile, our Grand Marshal will exit his convertible and head to the DJ booth, where he'll play vintage favorites and host games with prizes.
And don't forget, just down the hill Circus World has a full day of entertainment planned, including Tiger Adventures, a wagon tour and big top shows at 1 p.m. and 3:15 p.m.
As the day's last show lets out and cleanup efforts get under way, that's about the time the organizing committee starts planning for next year. We hope to see you again then!