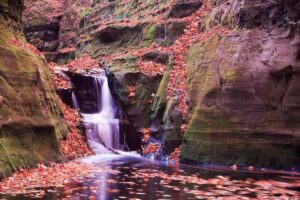 There's no time like autumn to fall in love with the Baraboo Area.
Breathtaking natural scenery and abundant activities make this part of the Driftless Region popular year-round. But the Baraboo Area really comes alive when fall colors start to pop.
Where to begin?
Where might you start your visit to the Baraboo Area? You can't go wrong with Ski-Hi Fruit Farm. Located atop the Baraboo Bluffs, the orchard offers a panoramic view of the peaks the glaciers left behind.
But that's just one part of the orchard's appeal. Ski-Hi sells bags of apples and jugs of cider, as well as doughnuts and pies made on-site. Be sure to visit the petting zoo, and have a brat for lunch served by one of several nonprofit groups Ski-Hi welcomes each fall.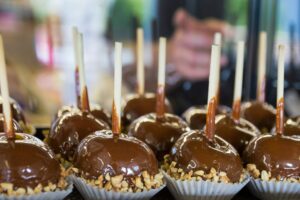 Just up Ski-Hi Road you'll find Devil's Lake State Park, the most-visited park in the Wisconsin system. Stunning in every season, it truly bursts into life in fall. Cool weather is conducive to hiking up the east bluff to see Balanced Rock and Devil's Doorway. At the summit you can overlook the lake and thousands of trees turning orange, yellow and red.
While you're in the neighborhood, take a spin down Sauk County Highway DL to Parfrey's Glen State Natural Area. The deep sandstone gorge is literally a cool place to spend a fall day, and another great spot for viewing autumn colors.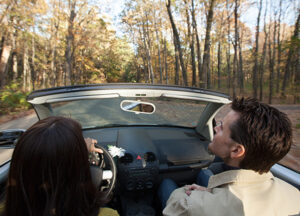 What else is there to do in Baraboo?
The Baraboo Area is a busy place, with community events scheduled every weekend. There's a farmers market each Wednesday and Saturday in downtown Baraboo, plus Spirit Tours and the Fall Haunted Downtown Walk hosted by Baraboo Tours.
On October 12, Fair on the Square returns to downtown Baraboo, showcasing outdoor décor and potential holiday gifts. Food and beverage vendors will set up shop on the Courthouse Square, and downtown shops and restaurants will be open for business.
That same weekend, the Rogues and Ruffians Renaissance Fair will be held at Circus World. Singers, musicians and jugglers will re-create the Renaissance Era, providing family entertainment.
Baraboo is home to a historic theatre built by one of the Ringling Brothers in the heart of his hometown. Today the century-old Al. Ringling Theatre hosts artists such as the Pink Floyd tribute group Pink Droyd (October 5) and Charlie Berens of "Manitowoc Minute" fame (October 26).
What's open year-round?
Regardless of the time of year, you can't go wrong with a spa day at Spa Serenity or a towering ice cream cone from Tin Roof Dairy. Just Imagine, a locally owned toy store, is always a hit with visitors, as is Bekah Kate's Kitchen, Kids and Home. All are located around the downtown square.
If you find yourself thirsty after enjoying all these activities, you'll be happy to learn the Baraboo Area offers many adult beverage options, with more coming on line soon. Driftless Glen Distillery offers its artisanal spirits and quality dining on the Baraboo Riverfront, next to Circus World.
If you prefer to unwind with wine, Baraboo Bluff Winery serves its products with a spectacular view of the hilly terrain west of town. On the downtown square, Von Klaus Winery offers tastings and bottles of its wines, adding new selections every year. On the road to Devil's Lake, a recent addition to the community – Balanced Rock Winery – serves its vino in a glimmering new facility with hillside views.
Beer fans can find their favorite flavors at Baraboo's many bars and restaurants. More options are on the way, as the recently opened Tumbled Rock Brewery plans to start selling its own beers before year's end. Meanwhile, the Al. Ringling Brewing Co. is building a brew pub concept around a recently discovered Ringling family beer recipe, placing the restaurant and brewery inside one of the family mansions!
The Baraboo Area is always a colorful place, never more so than in fall!