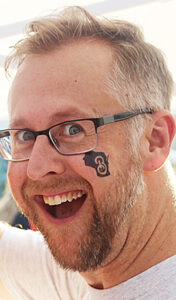 By Darren Hornby, Executive Director
Baraboo Area Chamber of Commerce
I've worn my "Cash Suit" around town to promote the Chamber's Cash Raffle. I've worn green Chuck Taylors daily to remind everyone who sees me that this campaign is under way. And now I, along with Chamber Board President Nicole Marklein, am prepared to take things up a notch.
If the Chamber's Ambassadors Club and its Board of Directors sell all 1,200 tickets available in this year's raffle, I will get a tattoo depicting the "Baraboo B" logo. So will Nicole. Do you accept our challenge?
This brilliant idea came to us during the Baraboo Young Professionals' fall Night Market, where Chamber staff and volunteers distributed free temporary tattoos showing the "B" inside a relief in the shape of Wisconsin. Some people stopped by the Chamber booth to buy raffle tickets, but many more came in search of temporary tattoos.
Nicole and I got to thinking: What if we got tattoos of the Baraboo "B" – permanent ones?
Maybe we were delirious after a long work week. Maybe we were still recovering from the Crab Boil earlier in the month. Or maybe we just really, REALLY want this raffle to be a success. Even after getting a night to sleep on it, we agreed to put our flesh on the line.
With six weeks remaining in the campaign, about half those 1,200 tickets have been distributed for sale. That means we all have a lot of work to do.
But here's the good news: This raffle is an easy sell. Each ticket costs only $25 this year, half of last year's price. And now there are three prizes, rather than one. First prize is $5,000. Second is $3,000; third is $2,000.
Even if ticket buyers don't win any of the big prizes, they'll have something to show for their purchase. (Besides the heartwarming knowledge that they've supported the Chamber, and possibly playing a role in having me and Nicole branded with the Baraboo Area brand.) They'll gain entry to a November 16th drawing party at Baraboo Arts that will feature free pizza from Gem City, free beer from Port Huron Brewing, and a view of that day's Wisconsin Badgers football game on a big screen provided by Baker Staging. That's worth 25 bucks right there!
Please stop in at the Visitor Center today to buy your tickets, or to pick up tickets to sell. I am ready for ink!