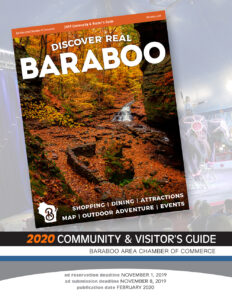 Want to put your stamp on the 2020 Baraboo Area Community and Visitor's Guide? Connect with Jacklyn Ewerdt of Towns & Associates to place an advertisement in this widely distributed publication.
The Baraboo Area Chamber of Commerce will have 10,000 copies of this magazine-style piece printed, and will distribute them at high-profile locations in Baraboo and beyond. It also will appear online at baraboo.com.
Featuring a newly expanded map, business listings and an event calendar alongside articles and images showcasing the Baraboo Area's charms, the Guide is a comprehensive reference for residents and tourists alike.
Jacklyn is now soliciting ads for the publication, with November deadlines looming. She'll be available at the Visitor Center from 11 a.m. to 4:30 p.m. on Wednesday, October 2nd. Otherwise, Jacklyn can be reached at (920) 291-5005 or jacklynewerdt@gmail.com. Towns & Associates offers free design services for display ads. Ad rates range from $450-$2,600 for four-color ads.
Check out the rate card here:
Baraboo20_Rates