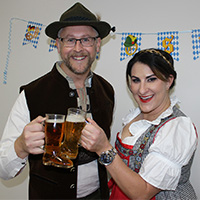 By Darren Hornby, Executive Director
Baraboo Area Chamber of Commerce
We focused most of this month on selling Cash Raffle tickets and promoting the Discover Real Baraboo brand, but we also made a little time to roll out the Chamber's newest event: Oktoberfest, coming in September 2020.
A planning committee has been meeting diligently to organize Oktoberfest. We're still working on selecting a venue, but please save the date: September 26.
Why Oktoberfest? Well, I'll admit that I'm an aficionado of Bavarian culture. Finding appropriate garb for the event won't be difficult, as I already own lederhosen and other pieces of traditional German clothing.
But more importantly, an Oktoberfest celebration in the Baraboo Area would fill a geographical void. Because so many Wisconsinites' familites have German roots, there are Oktoberfests across the state each September, particularly in the Milwaukee, Madison and Fox River Valley areas. But there isn't one between Madison and La Crosse. That's why I think there's a niche to be filled with German bands, pretzels and Oktoberfest beer. That's the kind of party Baraboo Area residents will get behind, and one that's sure to draw visitors from across the region.
We have 10 months to plan and promote this authentic ethnic festival, so let's move on to more pressing matters. The final push is on to sell the remaining tickets in this year's Cash Raffle. We have until the drawing party Nov. 16 to sell what's left of the 1,200 tickets and raise money to support the Chamber's efforts to promote the local economy.
For anyone looking for a sales pitch, here's mine: The Cash Raffle is a great opportunity to win a major cash prize ($5,000 or $3,000 or $2,000) for a modest investment of $25. But even if you don't win any of the prizes, your raffle ticket gets you into a Wisconsin Badgers football game party at Baraboo Arts Center featuring free pizza provided by Gem City Saloon, free beer provided by Port Huron Brewing, and the game on a big screen provided by Baker Staging. That's worth $25 right there!
Fundraisers like the raffle help us promote the Baraboo Area. Recently we've put the Discover Real Baraboo brand on billboards, yard signs and advertisements locally. Next we'll expand it regionally to entice potential visitors to discover this wonderful community's authentic charms.