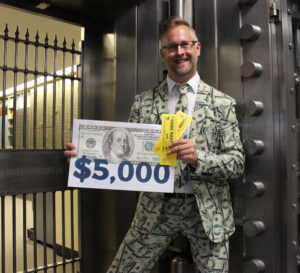 We have less than two weeks to finish selling our 1,200 Cash Raffle tickets. It's time to hit the gas as we approach the finish line!
Here at the Visitor Center we have plenty of tickets available, so if you think you can sell some – or would like to buy some – please let us know. Sales will continue until our drawing party Saturday, November 16.
The Cash Raffle is an important fundraiser that supports everything the Chamber does to boost the Baraboo Area's economy. This year, we tweaked the format: Rather than offer 600 tickets at $50 each and handing out a single, $10,000 prize, we decided to reduce the price to $25 and offer three cash prizes. This year, winners will walk away with prizes of $5,000; $3,000; and $2,000. Our hope is that a reduced price and increased odds of winning will stimulate ticket sales.
The Ambassadors Club and the Chamber staff have championed this fundraiser, and many Chamber members have stepped up to buy tickets. As the drawing party approaches, we're pulling for a fantastic finish!
Remember, every ticket holder is invited to the drawing party, to be held at the Baraboo Arts Center during the Wisconsin Badgers football game on the 16th. The party will feature Gem City pizza, Port Huron beer and the big game on a big screen presented by Baker Staging.
For anyone looking to buy tickets or pick up some to sell, Cash Raffle tickets are available at the Visitor Center, 600 W. Chestnut St. If you need the Chamber staff to deliver, please call (608) 356-8333 or send email to memberrelations@baraboochamber.com.