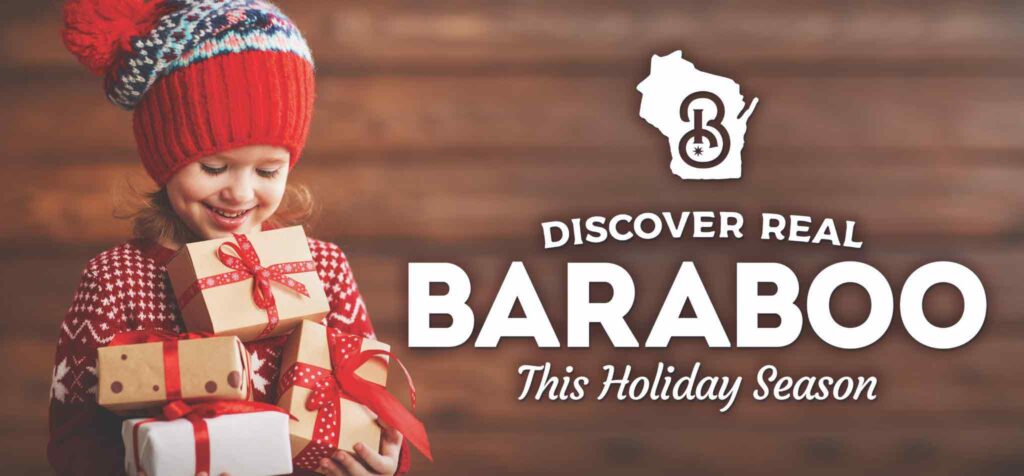 Traditions, liked loved ones, are what we hold dear during the holiday season.
They return us to what felt like a simpler time, before year's end became such a blitz. We find ourselves longing for time-tested classics: Carolers singing on the downtown streets, horse-drawn wagons taking passengers around town, Santa Claus himself greeting children.
Anyone visiting Baraboo this holiday season will see that such scenes aren't merely the stuff of Norman Rockwell paintings. They live and breathe right here in 2019, right here in Baraboo.
The Baraboo Area offers every option shoppers need, from national retailers to specialty shops. One day here will give you a chance to check off every loved one on your shopping list – and make cherished holiday memories while you do.
Here the holiday season kicks off in Downtown Baraboo Friday, Nov. 22 with the Winter Wine Walk, followed by the Christmas Light Parade the next evening. The former is perfect for a girls' night out. The latter is ideal for families ready to stoke the warming embers of Christmas cheer.
The holiday shopping rush begins for our national retailers on Black Friday. Meanwhile, our independent shop owners promote the next day as Shop Local Saturday. That'll be a special day of the week throughout December: A horse-drawn wagon will circle the Courthouse Square every Saturday as carolers sing and Santa entertains children's wishes.
Holiday events continue throughout December, with the Sauk County Historical Society organizing a festive Tour of Homes on Dec. 7, offering glimpses of four vintage Baraboo homes. The Very Merry Holiday Fair will return the following weekend, showcasing artwork and handmade crafts Dec. 13 and 14 at the Baraboo Arts Banquet Hall. On Dec. 20, the Baraboo Young Professionals will hold their latest Night Market, encouraging people of all ages to enjoy a "date night" outdoors on the downtown square. Christmas events conclude with the 16th annual free Christmas dinner at First United Methodist Church on Dec. 25.
These events – along with the concerts, performances and promotions listed at www.baraboo.com – have become annual traditions. That's why we hold them so dear.
If you're looking to truly experience Christmas – and make memories while tackling that shopping list – the Baraboo Area is the place to explore.