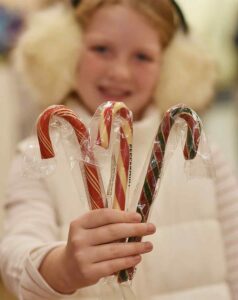 10 REASONS HALLMARK CHANNEL SHOULD FILM ITS NEXT HOLIDAY MOVIE IN BARABOO, WIS.
BARABOO, Wis. (Dec. 1, 2019) – The holiday movie season is upon us with Hallmark Channel alone listing 24 new movie premieres to help viewers get in the Christmas spirit. In other words, time to hang the mistletoe, pour a mug of hot cocoa, get the fire roaring and break out the tissues. The residents of the small community of Baraboo, Wis., population just about 12,000, have taken a special interest in all those Hallmark movies this year for more than just the sentimental value. They're keen on getting the Hallmark Channel to consider filming a holiday movie there and thought the best way to plant the seed was with some good old-fashioned word-of-mouth and publicity.
"Our little downtown is the heart of the holiday season and, while our hometown may be small, we have a big personality," proclaimed Lacey Steffes, a leader of the non-profit community group known as Downtown Baraboo, Inc. As an aside to Steffes' point, there's even a "big top" in town, the Circus World historic site, the former winter quarters of the renowned Ringling Brothers Circus. Steffes and her fellow board members got to thinking, why not set a holiday movie in Baraboo. "Even if Hallmark doesn't take notice, we're so grateful lots of travelers do, making sure a visit to the community is on their annual holiday to-do list," said Steffes.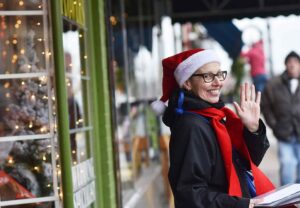 So, what makes Baraboo different from every other charming small town at Christmastime? The reasons are varied as the snowflakes.
Location: Baraboo is nestled at the foot of the Baraboo Bluffs, a setting as stunning as any out-west mountain range. These ancient quartzite cliffs with forests atop and waters below are picture-perfect. Which leads nicely into #2 on the list.
Snow: When snow blankets the hills and the pretty downtown, it's like a Christmas card come to life. The area averages nearly four feet of snow annually. The candlelight snowshoe events at Devil's Lake State Park are legendary and the cross-country ski trails at Mirror Lake State Park present a fine opportunity to carve out a little tranquility during the season.
That City Square: Baraboo has an honest-to-goodness city square, anchored by the circa 1906 courthouse with National Register of Historic Places designation and complete with bell tower. More historic buildings rim the square. There's an "all is calm" vibe too with everything walkable and no highway in sight which means no cars zooming through.
All Those Decorations: The shop owners – this is a good time to mention that most of the shops are independently owned and there are full storefronts instead of vacancy signs – go all out decking the halls. Store windows are magical, lampposts are festooned and buildings shine bright for the season. Pretty examples include Etcetera by BLH which sells new home decor and Countryside Refind (no, that's not a typo) that sells vintage décor.
Genuine Holiday Cheer: The business owners work together to make the season bright instead of competing. The only exception is trying to outdo one another for best of #4 above.
Heartwarming Events: For a small community, the holiday events calendar is mighty impressive. If a movie producer needed a crowd, they'd have no problem casting locals and visitors. The season always kicks off with a Christmas Light Parade, followed by December Saturdays of caroling, horse-drawn wagon rides, visits with Santa, even magical night markets. "It's a Wonderful Life" is shown in the jewel box of a theater, the beautifully restored Al. Ringling Theatre. The holiday Tour of Homes offers a glimpse into Christmas past at four vintage homes. If the script calls for an old-fashioned steam train, the Santa Express rides through the countryside at Mid-Continent Railway Museum would fit the bill perfectly. Right out of central casting, you might say, only its central Wisconsin.
Comfort Food: Cute diners with counter service and cozy bistros where people greet each other by name is the foodie trend here that never goes out of style. Movie crews would love the from-scratch meals served by jolly staff at Broadway Diner and Little Village Café. There's even a vegan spot in town, Cheeze Factory Restaurant. For an after-dinner hangout spot, Con Amici Craft Bar has a big-city wine list numbering nearly 150. To shake out the cobwebs in the morning, its Coffee Bean Connection to the rescue.
Shopping Finds: Set designers are always looking for props for movies. In Baraboo they can shop locally for rare books at Village Booksmith, gourmet kitchen crockery at Bekah Kate's, lotions and soaps at New Life Lavender, fair trade wardrobe pieces and jewelry at A Sense of Adventure, and toys and games at Just Imagine Toys. Todd Wickus is owner of the toy store and all the locals including the mayor call him "Toy Man." He opened the store 25 years ago this year and said he's just a kid at heart. "I love looking out my store window to see the horse-drawn wagon passing by and when Santa stops in to say hello, those give me the warm fuzzies during the holiday season," said Wickus. "The easiest way to sum it up is Norman Rockwell-esque." By the way, Wickus offers free gift wrapping. "Children know it's a gift from the store when they see the signature accessory – a piece of candy tied with a ribbon," said Wickus. The community even has its own line of "Greatest Place on Earth" signature merchandise available at Spa Serenity.
Lovely Lodging: Lead actors would like the lodging at the historic Ringling House B&B or the villa-like Inn at Wawanissee Point with sweeping views to Lake Wisconsin in the distance. And by next spring the renovation of the Al. Ringling Mansion will be complete with sleeping rooms upstairs and a ballroom-turned-brewery.
Sweet Treats and Celebratory Toasts: When it comes time for the wrap party, custom-made cookies from family-owned Neat-O's Bake Shoppe and Christmas cow pies (pecans smothered in caramel and milk chocolate) from Baraboo Candy Company can fill the dessert table. For libations, there's the recently opened Tumbled Rock Brewery, Driftless Glen Distillery on the banks of the Baraboo River, and a trio of wineries – Baraboo Bluff Winery, Von Klaus Winery and the newest of the bunch Balanced Rock Winery. Michelle Koehler, co-owner of Tumbled Rock, said the community guides their beer recipes, with their local brews going down well after a holiday hike at neighboring Devil's Lake State Park or following the holiday parade. "The parade is like Time's Square on New Year's Eve, and you can see the love people have for this community," said Koehler.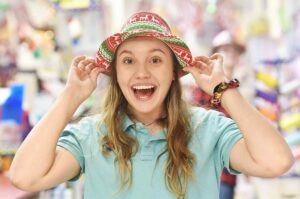 About Downtown Baraboo, Inc.
Downtown Baraboo, Inc. was organized to promote the city's downtown businesses and grow the area's economic vitality. There are more than 160 businesses within the downtown district and more than 700 people are employed downtown. For more, log on to www.DowntownBaraboo.com.
About the Baraboo Area Chamber of Commerce
The Baraboo Area Chamber of Commerce representing 400 businesses provides opportunities for members to market their services and products, develop relationships through volunteer opportunities, and be informed on the economic health of our community. The website is www.Baraboo.com.
Download this news release here:
Wisconsin-Town-Should-Be-Setting-for-Hallmark-Holiday-Movie
MERRIEST EVENTS IN BARABOO, WIS. – DECEMBER 2019
Saturdays in December
Very Merry Weekend: Horse-drawn wagon rides, visits with Santa and strolling carolers in the downtown district, 11 a.m.-2 p.m.
Dec. 7
Holiday Tour of Historic Homes: Tour four vintage homes beautifully decked for the holidays. 2-7 p.m. Presented by the Sauk County Historical Society. https://saukcountyhistory.org/schs-events
Dec. 13-14
The Very Merry Holiday Fair: Shop the wares of artisans, artists, authors and food purveyors. Friday noon-6 p.m.; Saturday 9 a.m.-4 p.m., Baraboo Arts Building, 323 Water Street. https://www.theverymerryholidayfair.com/
Dec. 14
Santa Stories in the Park.: Cozy up in front of the fireplace in the Ochsner Park Main Shelter for stories from Santa, followed by pictures and cookie decorating, 11:30 a.m.-12:30 p.m., 903 Park Street.
Dec. 20
"It's a Wonderful Life Movie, Al. Ringling Theatre, 136 4th Avenue: The classic movie with a message that rings true today, shown in a historic theater, showings at 2 and 7 p.m., 136th 4th Avenue.
Christmas Night Market & Date Night: Leave the kids with the grandparents and shop more than 25 vendors as well as the 40+ specialty shops around the courthouse square, 4-8 p.m.