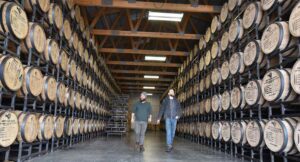 ABOUT DRIFTLESS GLEN DISTILLERY & RESTAURANT
Overlooks the Baraboo River.
Started distilling in 2014, opened the restaurant in 2015.
One of the largest continuous column stills in the U.S. at 42 feet, which helps create a smooth taste.
Distill, age and barrel all their spirits on site.
Only use Midwest grain, with spent grain recycled at local farms.
Bourbon and rye are the flagship spirits, followed by brandy. Also produce vodka and gin.
Winter tour hours are Thursday through Sunday, every hour on the hour.
90 rating from Whiskey Advocate.
Restaurant serves "distillery cuisine," using the spirits in entrées to desserts.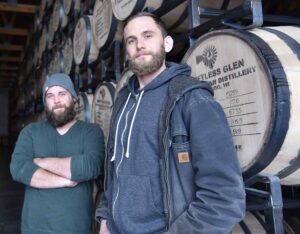 MEET NATHAN MAHINSKI & MAX THIBODEAUX: Lead distillers at Driftless Glen Distillery. Nathan has lived in Baraboo nearly all his life, while Max is a transplant from Louisiana who's been in the area since high school. Both have been at the distillery from day one.
How did you learn your craft?
Nathan: There is no distiller degree. A lot of knowledge is passed down from the industry in Kentucky. I learned from master distillers. The real art is in the tasting.
Max: I apprenticed with lead distillers. Lots of people fall into this career plus it's an industry that attracts chemical engineers. For me, you could say it's been remedial chemistry.
What brought you to Driftless Glen?
Max: I came here with intent. I was into booze.
Nathan: I knew the owners and one other employee. I've worked my way up. I fell in love with it.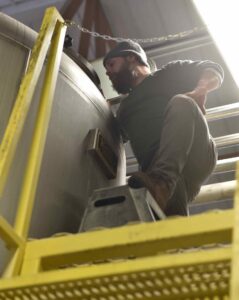 How would you describe the evolution of the distilling industry in Wisconsin?
Max: The craft distillery movement is about 15 years behind the craft brewery movement in the state. We're on the upper end of the distilleries given our high production capacity.
Nathan: It's still a very hands-on craft to learn. You can come here and see the process start to finish. There's not much automation.
Max: It's the two of us dumping 50-pound bags of grain into the still, it's grain-to-glass.
What makes the spirits here different and better?
Max: Water is the biggest factor in the taste and quality. In this Driftless Region of Wisconsin, the glacier rolled through and dropped off sediment in underground aquifers giving us some of the greatest water in the country.
Nathan: We don't need to do any pH adjustment. It's a luxury to have that superb untreated well water. It makes our jobs easier.
Max: Customers ask about sourcing and we use all Midwestern grains.
Nathan: All the malt used in our whiskey is from Wisconsin. In fact, the majority of our whiskey supplies come from within 15 miles.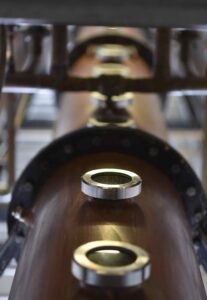 What's on your wish list for the distillery?
Max: Make more gin. And port-finished bourbon.
Nathan: Small-batch products only released in-house.
Favorite drink?
Max: Bourbon neat, gin and tonic, or a Manhattan.
Nathan: I actually come here as a customer for the cocktails. The Blackberry Old Fashioned, or the Old Gin Up which is a cross between an Old Fashioned and a martini.
Favorite things to do in the area?
Max: Baraboo is cool, with its mix of nature, the arts scene, the circus history, restaurants and now the distillery.
Nathan: I'm a big nature guy, I love hiking at Devil's Lake State Park. You're just five minutes away to great scenery.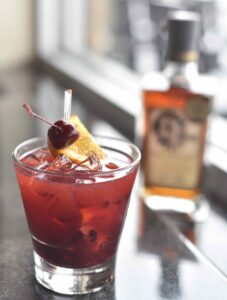 Blackberry Old Fashioned Recipe
Muddle:
1 orange slice and 3 blackberries
¼ oz. Reneé Blackberry Ginger Balsamic
2 Dashes Whiskey Barrel Aged Bitters
½ oz. simple syrup
Add ice and 2 oz. Driftless Glen Bourbon
Top with sour and Sprite
Garnish: cherry and orange slice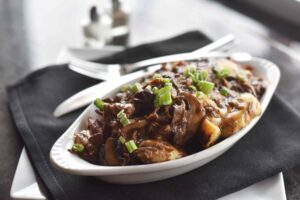 Driftless Roasted Red Poutine Recipe
2 cups roasted red potatoes
2 tbsp butter
Handful of wild mushrooms
½ cup pot roast trimmings
½ cup veal demi glaze
¼ cup fresh white cheddar cheese curds
1 tbsp scallions
Heat butter, sauté mushrooms until limp. Add pot roast trimmings. Add demi glaze, bring to a boil, reduce to simmer, cook 2-3 minutes. Add in fresh cheese curds, warm for 1 minute until soft. Place roasted red potatoes in dish, pour meat mixture over the top. Garnish with scallions.