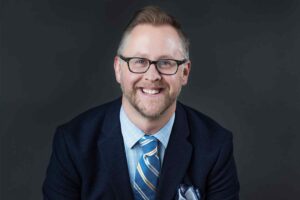 By Darren Hornby, Executive Director
Baraboo Area Chamber of Commerce
Can you believe it's been almost a year since I joined the Chamber staff as Executive Director?
A year ago in this publication, my predecessor Bobbie Coons announced she was leaving to become Director of Development for the Circus World Museum Foundation. At that time, I was handling community relations for Cell.Plus-U.S. Cellular. I knew plenty about Chamber operations through my role as a member of the Board of Directors, but I was still in for quite an education!
Starting a new job always comes with a learning curve. You know, "What's my password? Where do I find a copy of the budget? How do I reload the paper towel in the men's room?" That sort of thing.
Plus, there was some catch-up work to do, as the Chamber had been operating shorthanded. We had a golf outing to plan, dues to collect and a Marketing & Tourism Coordinator to hire!
Our irrepressible Office & Operations Coordinator Sandy Gavin, with help from Raegen Trimmer and the Board of Directors, gamely kept the ship afloat while awaiting reinforcements.
Now, a year later, Marketing & Tourism Coordinator Ben Bromley and I have coordinated each of the Chamber's key events – the Golf Outing, Big Top Parade, Crab Boil, Cash Raffle and Annual Dinner – once. After we wrap up late winter-early spring duties such as arranging promotional campaigns and planning for summer events, we will have completed the annual cycle.
I'm looking forward to hitting the ground running in my second year leading the Chamber. Now that we have our feet under us, Ben and I are planning new initiatives such as Wake Up Baraboo breakfast networking sessions, industry roundtable meetings and a Milwaukee Brewers game outing. Our 2020 marketing plan includes revamping baraboo.com with help from Skillet Creek Media. We will be contracting with Visit Widget to place a virtual tour guide on the site. With help from our partners, we're working to secure a JEM grant from the Wisconsin Department of Tourism that will help us share the Discover Real Baraboo brand and undertake additional promotional efforts that will bring visitors to the Baraboo Area.
It has been a busy, challenging and rewarding year. I'm excited about starting my second year at the helm. With your help, we'll continue to improve our favorite annual events and establish some new traditions!