There's plenty of information available to businesses about how they can best respond to the coronavirus pandemic. We hope our members will find these resources helpful.
Sauk County maintains an online map of open food and beverage businesses here. The Chamber maintains a rundown of its members' hours and available services here.
Answers to frequently asked questions
I'm now out of work, where do I apply for unemployment online? Are there still waiting periods?
I need business help …. now. Where do I find it?
And SBA  https://www.sba.gov/funding-programs/disaster-assistance
When is the IRS sending me the economic impact payment?
What is COVID-19 anyway?
What are the symptoms? Should we wear masks everywhere? How many people in Wisconsin have it?
WMC toolkit for employers
Wisconsin Manufacturers & Commerce has crafted a COVID-19 Employer Toolkit. It's designed to help your business with the latest and most relevant information, and will provide answers to some of the most frequently asked questions. Featured topics in this toolkit include:
Coronavirus Small Business Guide, Loan Resources & Guidance
Unemployment Insurance
Federal Paid Leave Changes under FFCRA
Work Share – A current state solution to help employers avoid layoffs
Federal CARES Act Summary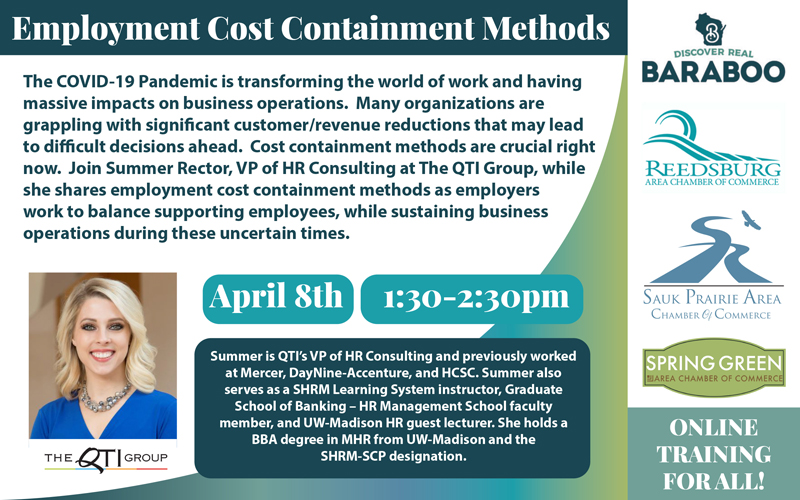 QTI Group offers cost-cutting ideas for employers
Register for this seminar by following
this link
.
Find more information about this event
here
.
Rules for lodging establishments
From the Sauk County Health Department:
Further clarification has been provided by the Governor on campgrounds, tourist rooming houses, bed & breakfast establishments, and recreational educational camps.
Nonessential businesses includes recreational and educational camps; and public swimming pools, hot tubs and water attractions (water parks). These businesses must cease operation. Therapy pools used by patients and medical facilities may continue to operate.
Essential businesses include hotels and motels; tourist rooming houses; bed and breakfast establishments; and campgrounds. These businesses can remain in operation but must:
Comply with requirements of Sections 13.b (selling groceries and medicine), 13.d (restaurant operations) and 13.e (bar operation) in Emergency Order No. 12.
Close swimming pools, hot tubs and exercise facilities.
Follow social distancing requirements of at least 6 feet between all individuals to the maximum extent possible.
Prohibit guests from congregating in lobbies or other common areas. That means providing adequate space to adhere to social distancing between all people while queuing for front desk services.
Avoid meeting in person whenever possible. Switch to virtual meetings, teleconference and remote work.
Comply with all Department of Health Services guidelines for businesses.
For additional information regarding campgrounds and lodging facilities, please click the links below:
In addition, please educate customers on how it is best to stay home to prevent further disease transmission. With travelers coming in to Sauk County from all over the nation, this could overwhelm our healthcare system as well as the healthcare systems of those communities in which they return to, with visitors as well as residents.
Please contact us if you have any questions or concerns at 608-355-3290.
Survey on business disruption
In collaboration with WEDC, UW Oshkosh Center for Customized Research & Services, MadREP and Sauk County, SCDC asks businesses to take this online survey by April 6.  It will be used to measure economic loss and to assist in future recovery efforts, as this COVID-19 pandemic plays out across Wisconsin.
The results will be available at the county, region, and state levels. You will note this survey tool is dated and stamped with Observation Period #1.  After your survey completion you will get a second survey stamped Observation Period #2 on or around May 1st directly from UW-Oshkosh Center for Customized Research & Services, in which the questions may be altered slightly.
We realize with an overlap of membership, you may get the survey from more than one organization. You only need to complete this survey once per observation period. Duplicates will be screened as part of the intake process.
While there are a lot of unknowns during this time it is the intention that there will be a couple more observation period surveys through the tail end of the pandemic.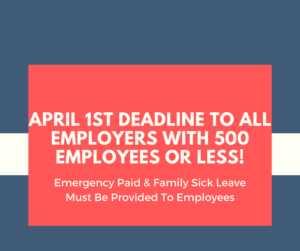 Baraboo firm offers help to employers
As of Wednesday, April 1, all employers of 500 employees or fewer are obligated to provide leave under Families First Coronavirus Response Act. Cross, Jenks, Mercer & Maffei is offering a flat fee rate of $500 to all employers to answer any and all questions regarding implementation of or compliance with this law from now until the end of May. Included in the flat fee are sample notices and forms employers need to provide to employees. The firm has waived its initial consultation fee and its hourly fees for this type of matter during this difficult time. Call (608) 356-3981 or send email to  cjmmlaw@cjmmlaw.com or visit cjmmlaw.com
CARES Act info from the SBA
The Coronavirus Aid, Relief and Economic Security (CARES) Act designated $350 billion to help small businesses keep their employees working. The Paycheck Protection Program was created under the CARES Act to provide federally guaranteed loans to help small businesses maintain payroll and pay certain other expenses. The loans offered through this program are up to 100 percent forgivable if the business maintains payroll.
Business owners will be able to apply for these loans at any lending institution that is approved to participate in the program through the existing U.S. Small Business Administration lending program and additional lenders approved by the U.S. Department of the Treasury. The SBA has many well-established lending partners including many community banks.
The SBA has released information and guidance about the CARES Act on its website:
Student essay contest
The Wisconsin Manufacturers & Commercer Foundation is challenging middle and high school students from the State of Wisconsin to write an essay on the importance of business in their communities and the incredible way they're seeing companies in Wisconsin respond to this pandemic.
Students should research ways Wisconsin companies are helping their employees through this crisis, as well as ways they are innovating and working with community partners to help control the spread of the COVID-19 pandemic. Three $500 cash prizes will be awarded to the top high school essays, and four $250 cash prizes will be awarded to the top middle school essays.
More information can be found at www.wibusinessworld.org.
SBA loans available
Small Businesses and private non-profits are now eligible for SBA's Economic Injury Disaster Loans(EIDL). Loans are available for up to $2 million can help provide working capital to meet the needs of payroll, accounts payable and fixed debt payments until the situation improves.
Wisconsin's SBA office will again offer live daily webinars to walk you through the application process and answer questions. Register for Monday, March 30 through April 10. All sessions are at 2 pm.
WEDC Essential Business Declaration
The Wisconsin Economic Development Corporation has issued a declaration on essential businesses.
Federal memorandum on essential infrastructure workers
Read the U.S. Department of Homeland Security's memo.
Governor's order
Read Governor Tony Evers' Safer at Home order here.
SBA guide to small business relief
Learn what help is available from the U.S. Small Business Administration here.
Businesses and nonprofits can begin their loan applications at www.sba.gov/disaster.
FEMA guide to rumor control
The Federal Emergency Management Agency is working to control rumors related to coronavirus. Read its guide here.
SHRM resource page
Society for Human Resource Management resource page. Local contact is Tom Graber of Workplace Elevation. Reach him by email at tom@workplaceelevation.com or phone at 608-957-5150.
Mayor declares emergency
On Thursday, Baraboo Mayor Mike Palm issued an Emergency Declaration for the city. It invokes emergency actions to be taken during the coronavirus pandemic. Please see the City
website
for the full declaration or download it
here
.
Workforce Solutions fact sheet
Read a fact sheet issued by Workforce Solutions, an affiliate of MBE CPAs, titled "Taking the Chaos Out of Conoravirus."
WEDC offers grants for small businesses
In another step toward assisting small businesses that suffer losses related to the COVID-19 health emergency, the Wisconsin Economic Development Corporation is creating a program to provide grants to targeted businesses throughout the state.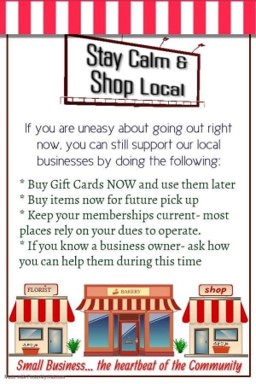 On Friday, WEDC released an updated document. 
CLICK HERE
to access it.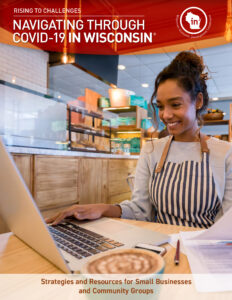 WEDC suggests strategies for combating coronavirus
The staff of the Wisconsin Economic Development Corporation has compiled a document designed to help small businesses pivot and thrive during the COVID-19 pandemic. It features great ideas and promotional materials for several business sectors.
WRA seeks survey input from restaurateurs
The Wisconsin Restaurant Association is gathering information from restaurants statewide to share with the public, including restaurants that provide delivery, curbside or to-go service in the next few weeks in response to the limitations and suggestions that are in place as a result of the Coronavirus. Take the survey 
here
.
SBA offers disaster assistance
Read a fact sheet from the U.S. Small Business Administration
here
.
Note: Don't go online for the SBA emergency loan program just yet. Wisconsin has not yet been approved. The governor made the declaration request March 18 and it takes about 48 hours for SBA approval. So save yourself some frustration and go online after March 20 or contact your lender, who should be notified when the funds are available for Wisconsin.
The SBA also offers advice
online
.
Unemployment insurance info from DWD
The Wisconsin Department of Workforce Development answers questions about unemployment insurance related to the pandemic
here
.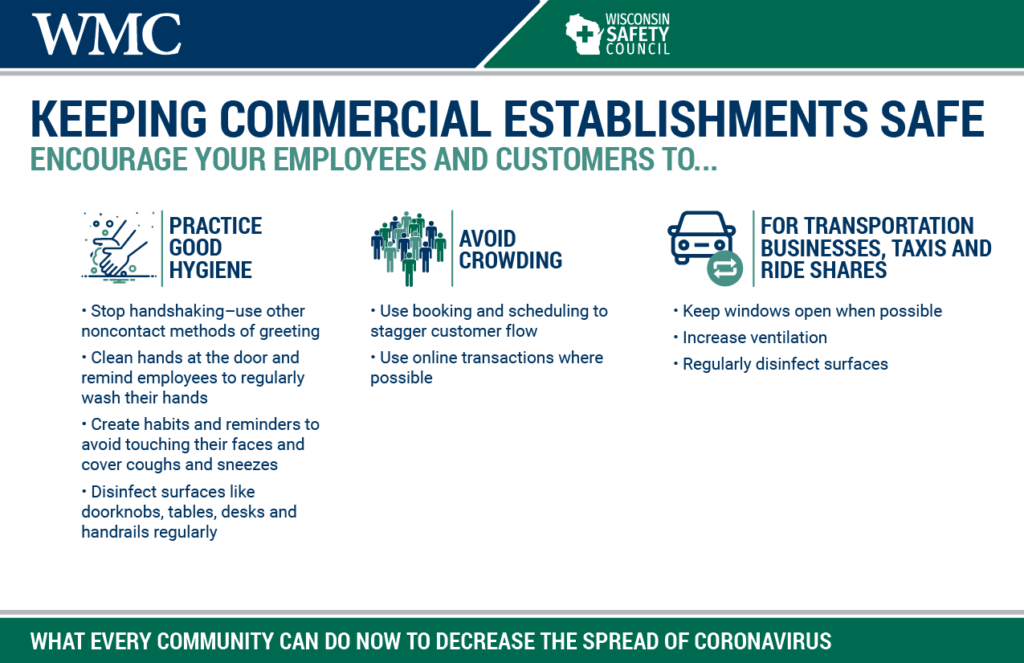 WMC resources include access to webinars
Wisconsin Manufacturers & Commerce, the statewide chamber of commerce, has made plentiful resources available to local employers.
Click
here
to access WMC's coronavirus resource center.
Click
here
to listen to WMC's webinar on handling the pandemic.
Click
here
to hear Governor Tony Evers and his Cabinet secretaries address COVID-19 and its economic impact.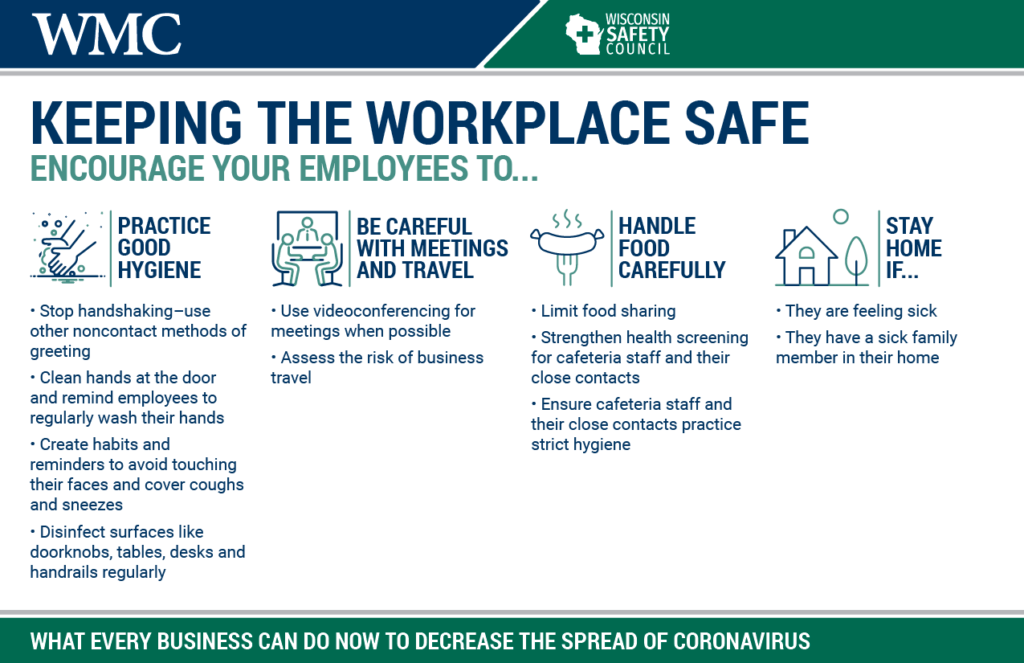 Governor alters unemployment insurance rules
Governor Evers issued an emergency order March 18 to waive work search requirements and modify the availability requirements for unemployment insurance benefits for workers impacted by COVID-19. The one-week waiting period for benefits, as well as the requirement that UI claimants conduct at least four weekly work search actions, will be waived during the COVID-19 emergency. His order will also ensure that claimants who are otherwise eligible but out of work due to COVID-19 are considered available for work and therefore eligible for benefits. More information on unemployment benefits can be found on the Department of Workforce Development
website
.

Facebook introduces grant program
USBC National Charity Foundation launches campaign
The USBG National Charity Foundation has mounted a COVID-19 relief campaign. To donate to the campaign, or seek, relief, visit the organization's
website
.
Healthcare providers seek masks
The Trump administration recently allowed healthcare workers to use N95 face masks not specifically approved for medical use to treat a patient during the COVID-19 pandemic. If your company has available masks to share with healthcare providers, you are encouraged to contact your nearby hospital and clinics. Ask to speak to the person in charge of Materials Management.
Baraboo: St. Clare Hospital 356-1400
Reedsburg: Reedsburg Area Medical Center  564-6487
Sauk Prairie: Sauk Prairie Healthcare 643-3311