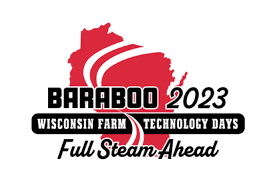 Farm Technology Days coming to Baraboo
Planning for Wisconsin Farm Technology Days 2023 is full steam ahead for July 18-20 at the Badger Steam & Gas Engine Club's grounds in Baraboo, Sauk County.
Founded in 1963, the Club's mission is to preserve the area's agricultural & industrial heritage.
After the successful 2022 show in Clark County, exhibitor sign-up is ahead of pace for 2023: More than 150 of last year's exhibiting companies and organizations from across the Midwest and Canada have already committed for next year's show. Companies looking to reserve their space for 2023 Farm Technology Days can visit this website.
State and local organizers have been hard at work planning for the upcoming show.
"The plan is really far along to have a fun, interesting, educational, and diverse show that highlights the wide range of agriculture and industry in Sauk County," said Arnie Jennerman, general manager of Wisconsin Farm Technology Days. "There will be something for everyone, and we're excited to showcase Sauk County industry and agriculture as well as the latest in ag technology."
Just some of the highlights of the show include:
Six tours
Farm Tech Days Baraboo will feature six tours of different local farms and companies, giving attendees a real taste of the range of agriculture and related business in Sauk County. In order to accommodate as many people as possible, half of the tickets for the tour will be available online starting in July, and half will be available onsite.
Taste of Wisconsin
Food options at the Baraboo show will be wide-ranging and provide a "Taste of Wisconsin" from area Food Trucks who will be on the grounds to offer their specialties to attendees.
Innovation Square
This popular exhibit's theme in 2023 is "Diversity in Synergy." The Planning Team is working to capture production, cultural, and career diversity all in one location, and is working with Madison College to highlight a wide range of agriculture careers for attendees.
Ag adventure youth experience
This year the youth experience will be spread out on the grounds and be incorporated into different exhibits. Youth of all ages will be able to get hands-on experiences with a wide range of different agricultural exhibits. Completed "Adventure Passports" will earn attending youth a prize to commemorate their participation.
Equine extravaganza
Horses are a big part of life in Sauk County and the Equine Show is already chock-a-block full of an entertaining, interesting, and educational schedule of shows and demonstrations.
"Volunteers make Wisconsin Farm Technology Days run and 2023's show will be no different," said Anna Maenner, Exhibit and Program Coordinator. "Nonprofit organizations can earn money for their causes by volunteering with a group before and during the show for any of the many different volunteer opportunities. It's a great way to be together, help your organization, and attend Farm Technology Days."
Individuals can fill out our volunteer survey here, groups or individuals with questions should contact the show at 920-644-3551 or email info@wifarmtechdays.org.
About Farm Technology Days
Wisconsin Farm Technology Days is a three-day outdoor event showcasing the latest developments in production agriculture, including practical applications and recent research and technological developments. This is the only farm show of its size in the United States that is organized and run entirely by volunteers. As the largest outdoor agricultural event in the state, it welcomes more than 45,000 attendees, with more than 500 commercial and educational vendors. The first WFTD show was named Farm Progress Days and was held in Waupaca County in 1954.
About ag in Sauk County
Agriculture works hard in Sauk Country. Family-owned farms, food processors and agriculture-related businesses generate thousands of jobs and millions of dollars of economic activity while contributing to local income and tax revenues.
Sauk County's top commodities include milk, grain, cattle, swine, and cropland. There is a strong connection between farmers and consumers, with $1 million of goods sold locally through farmers' markets, CSAs and agritourism initiatives.
Over 56% of the county land is farmland, made up of more than 1,400 farms. Overall, agriculture has a tremendous impact on the county landscape, and the variety of family farms continues to keep agriculture thriving in Sauk County.