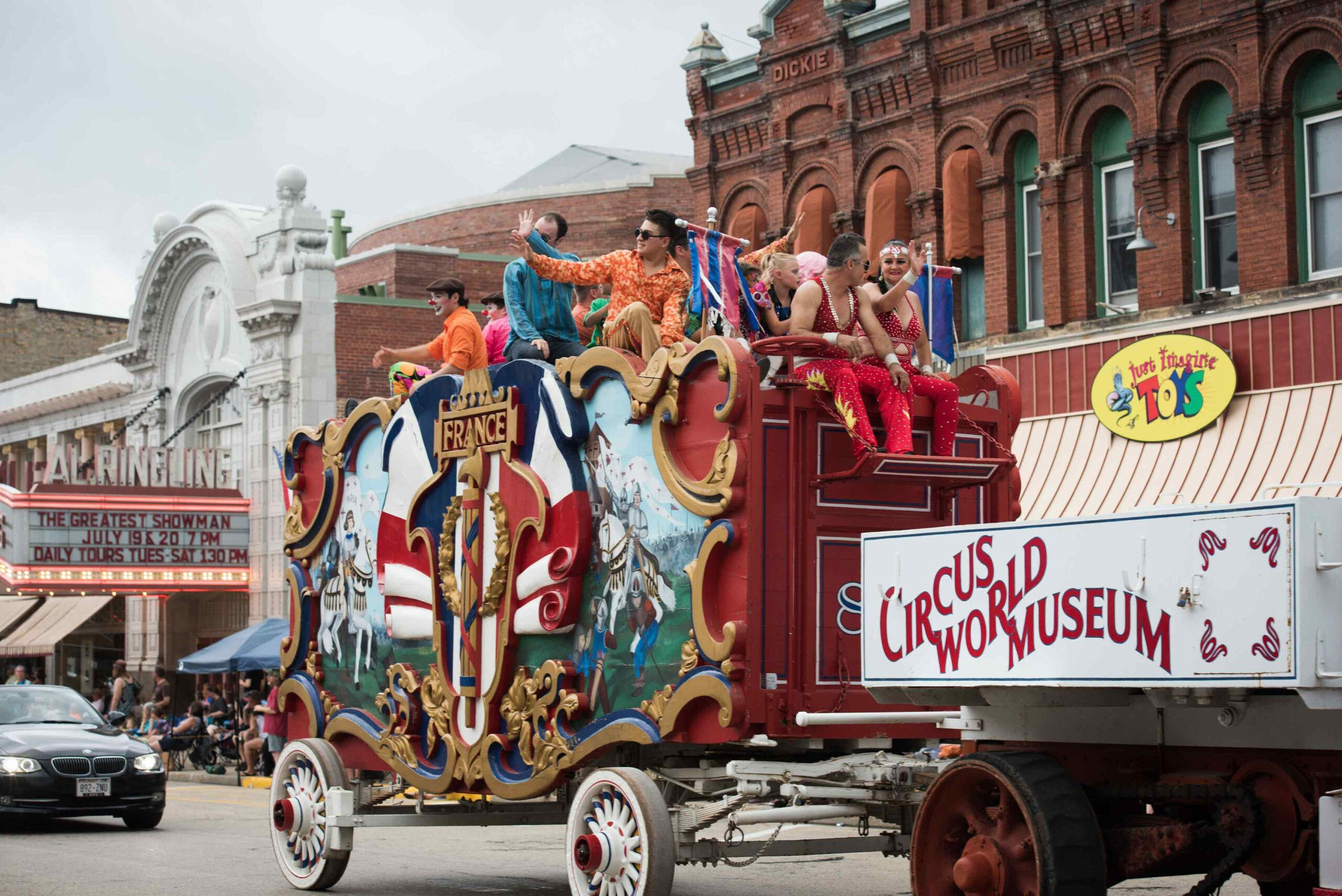 Big Top Parade returns June 25
The Big Top Parade will return to the streets of downtown Baraboo on Saturday, June 25 for the first time since 2019.
Historic wagons, exotic animals, marching bands and community floats will delight paradegoers, highlighting a weekend full of circus-themed fun.
"We could not be happier to bring back the parade," said Nanci Caflisch, co-chair of the Big Top Parade and Circus Celebration organizing committee. "This one will be extra special."
The COVID-19 pandemic forced the cancellation of the parade in 2020. Last year, the committee presented a community-wide Circus Celebration weekend, minus the parade.
This summer the parade returns, adopting the pirate theme in use this season at Circus World. The Baraboo historic site works with the Baraboo Area Chamber of Commerce and a committee of volunteers to present the parade. Circus World's famed singing ringmaster Dave SaLoutos will serve as grand marshal, commemorating his final season performing under the big top.
"Who better to lead our parade than an icon who is synonymous with this event and with Circus World?" asked George Althoff, Executive Director of the Chamber of Commerce.
The Circus Celebration begins Thursday, June 23, when Professor Stich's Original Circus Band performs in downtown Baraboo's Concerts on the Square series. The Al. Ringling Theatre will present "Pirates of the Caribbean" Friday, plus an afternoon movie and organ concert Saturday.
Acrobats, aerialists and clowns will entertain the crowd before the parade steps off at 11 a.m. Saturday. After dozens of parade units make their way through the downtown streets, bands will provide post-parade entertainment on the Courthouse Square.
The fun will continue on Sunday, when Baraboo Tours presents hourly trolley tours of Baraboo's many historic circus sites. Throughout the weekend, Circus World will present its daily big top show – titled "Yo Ho!" – at 11 a.m. and 2:30 p.m.
"Arrrrr ye ready for a stupendous show and parade?" asked Scott O'Donnell, Executive Director of Circus World. "You could sail the seven seas and not find finer family entertainment."
Watch for updates at bigtopparade.com.