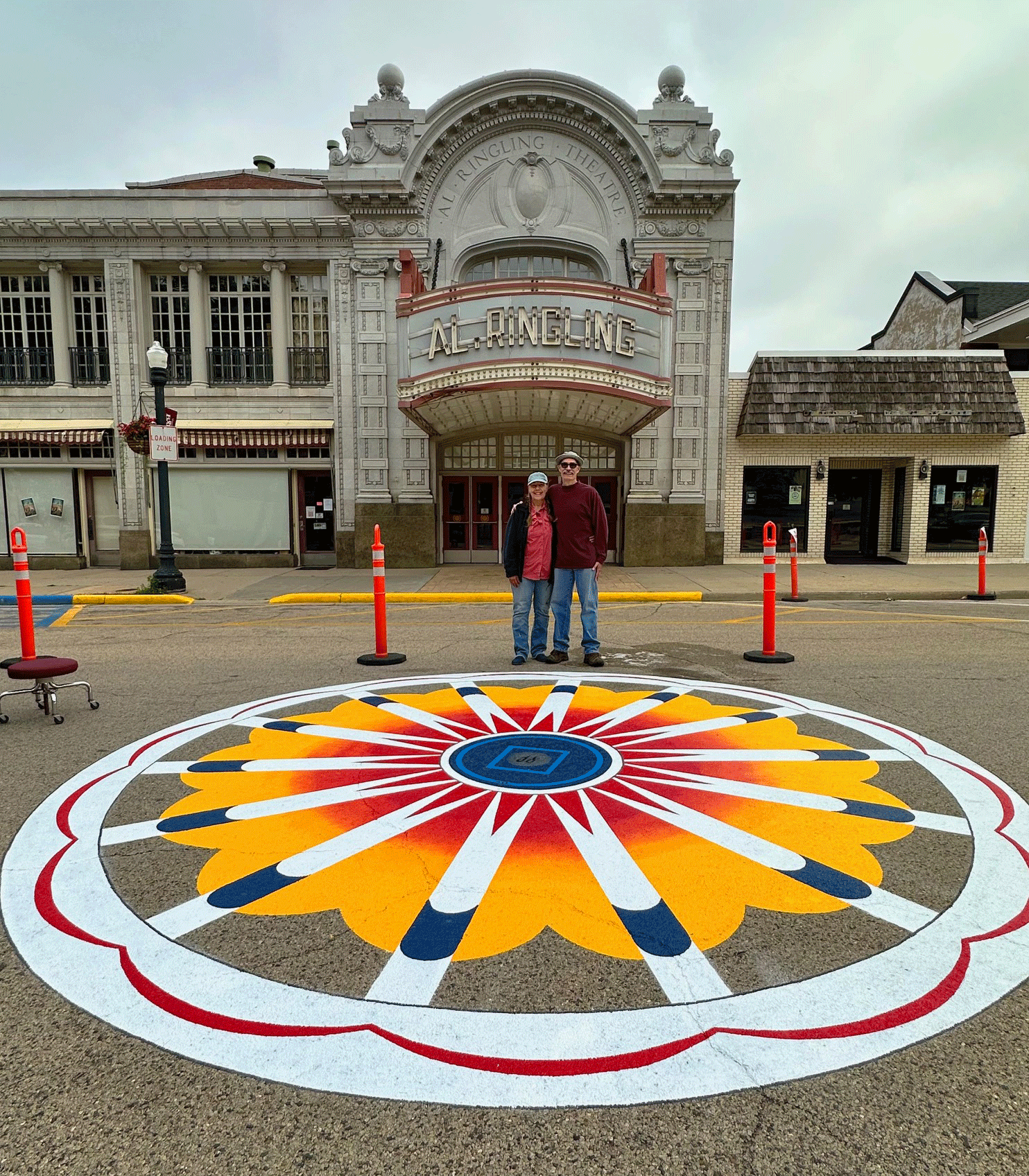 Sponsors bring circus wagon wheel to Baraboo
Generous sponsors stepped up to make a long-discussed public art project a reality: Painting a circus wagon wheel in downtown Baraboo along the Big Top Parade route.
Last month the Baraboo Area Chamber of Commerce commissioned local artist Joan Stevens to paint a wagon wheel design, inspired by the wheels of an antique Circus World wagon, on Fourth Avenue in advance of the Big Top Parade. With help from fellow artist Morgan McArthur, Stevens finished this work of public art in a matter of days. It was complete the week before the June 24 parade.
The project was the brainchild of Big Top Parade Committee Co-Chairs Nanci Caflisch and Doug Hill, who had longed for years to see a circus wagon wheel painted on the street in front of the Al. Ringling Theatre. (This spot serves as the backdrop for MAX TV's annual parade broadcast.)
City officials gave the project their blessing this spring. Caflisch and Hill not only put the wheel in motion, but supported the effort financially. Gifts from Nanci Caflisch Re/Max Grand and Doug and Audrey Hill moved the $8,000 project from red ink to black. Their donations complemented contributions already made by Hill's Wiring, Craig and Bonnie Sauey, and by the Harry and Helen SaLoutos Fund at the Community Foundation of South Central Wisconsin.
"I was so excited to finally see this vision realized," Caflisch said. "For so many of the 25,000 people who attended, the wagon wheel added to their enjoyment of the parade."
Stevens said the painting should last two to three years, with periodic touch-ups.